Many practices want to use cloud storage services like Google drive and hosted email.  Is Google's G-Suite HIPAA compliant?
First, let's review what's actually in Google's G-Suite, Google's paid version of a variety of productivity tools.
Email
Most famously, G-Suite includes Gmail, an excellent and easy-to-use email platform.  Users go through the famous Gmail portal, but their email address is their own custom email (@yourcompany.com).  G-Suite customers get 30GB of inbox storage, and are able to use Microsoft Outlook and other email clients.
One important note is that the paid version of Gmail doesn't scan your emails to show you ads.  Paid Gmail users never see ads.
Calendar
The calendar in G-Suite lets you plan meetings with other people, and schedule appointments.  Many EMR/EHR systems offer integration with Google's Calendar for scheduling.  The calendar is also well integrated into other G Suite applications like Gmail, Drive, Contacts, Sites and Hangouts.
Cloud File Storage
G Suite includes Google Drive, a tool to easily store, sync and share files.  Files sync between your desktop, mobile devices, and the cloud.  You can control who can see which files.
Collaboration Tools
G Suite includes web-based versions of some simple-but-solid productivity tools.  This includes:
Docs (kind of like Microsoft Word)
Sheets (kind of like Microsoft Excel)
Slides (kind of like Microsoft PowerPoint)
Forms (for building forms on the web)
Sites (a tool for building an intranet)
Note-Taking
G Suite includes a tool called Google Keep for note-taking (kind of like Evernote).
Instant Messaging and Video Conference
G Suite includes two tools for connecting with people digitally:
Google Hangouts for instant messaging
Hangouts Meet for secure video conferencing
G Suite also comes in the two flavors — the $5/user/month version that works for most people, and the $10/user/month plan if you want extra data loss prevention features.
If 30GB/user isn't enough, you can also buy more space.  It's shared across all of your G Suite applications.
Will Google sign a BAA for G Suite?
Yes, Google will execute a HIPAA Business Associate agreement (BAA) with paying customers of G Suite.
Be aware of the stipulations
It's important to note that the G Suite Business Associate Agreement covers ONLY some of the G Suite services.  As of this publishing, here are the services that are and aren't part of the G Suite BAA: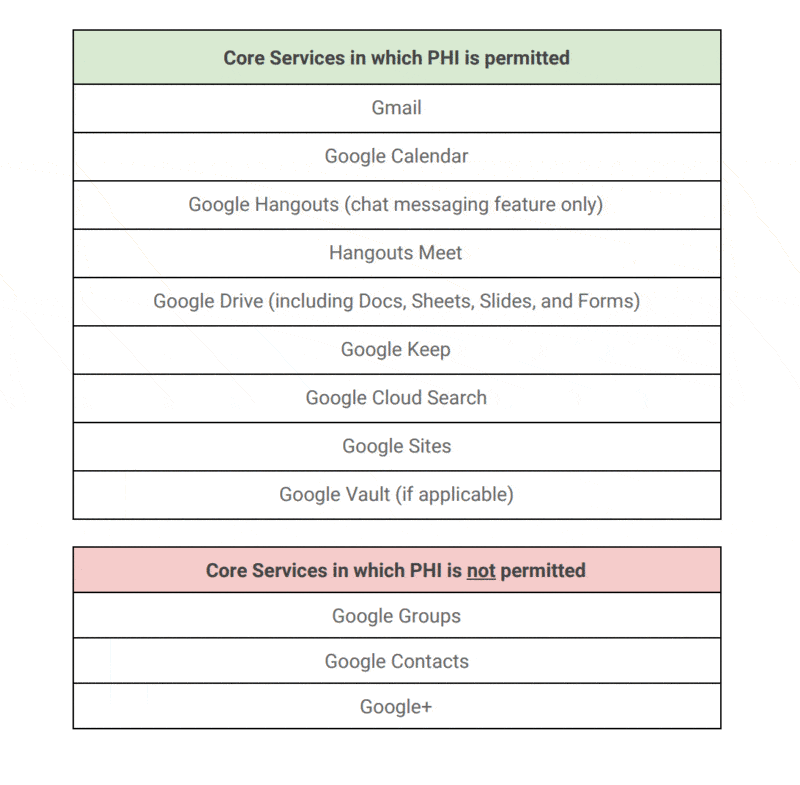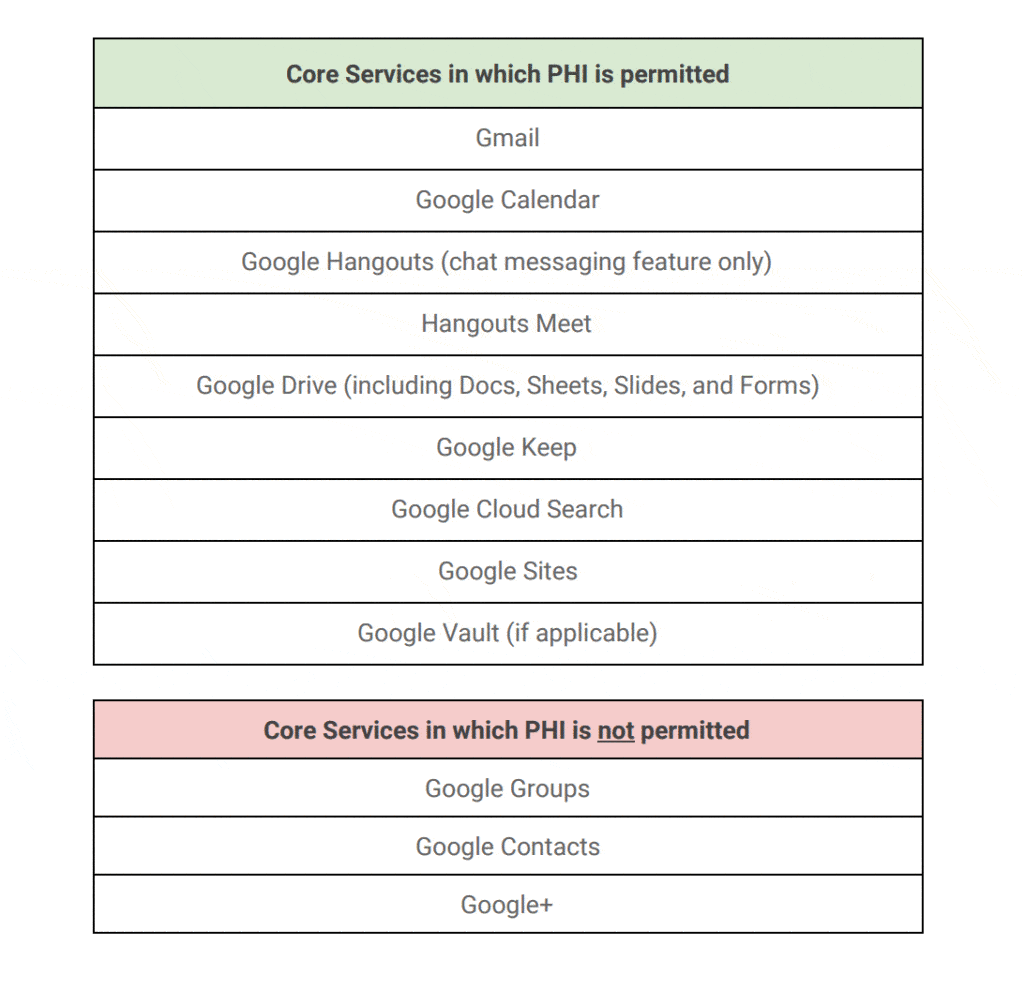 You are still responsible for verifying your compliance
Just because Google is ensuring security when it comes to the actual storage of your PHI doesn't mean that you can sit back and let them do all the work. You still need to be proactive when it comes to making sure your information is protected. Two-factor authentication, permissions management, password policies, employee use policies — all of these are still your responsibility to implement and test.  But keeping these things in mind, G Suite can now be a convenient tool in helping to manage your PHI.
So is G Suite HIPAA compliant?
Yes, G Suite can be used by medical practices in ways that are HIPAA compliant.  However, this is only true if you:
Use the paid version of Google's G Suite,
Sign a HIPAA Business Associate Agreement (BAA) with Google, and
Take correct steps to set up G Suite to make sure your practice is HIPAA compliant
What should you do next?
Get our free "17-Step Guide on Gmail and HIPAA Compliance" to learn more about keeping your email safe.
Know someone who might like this article?  Share it!
Have questions or something to add?  Let us know in the comments below!