CMMC and
NIST 800-171 Compliance
Can you afford to lose your government customers
over NIST 800-171 and the CMMC?
Learn More
The NIST 800-171 deadline was December 31, 2017,
and the CMMC deadline is coming up in 2020.
Do you have proof of CMMC and NIST 800-171 Compliance?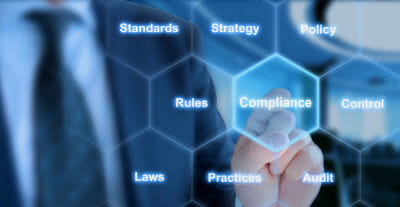 Hackers want to learn what you sell to the government (and in what amounts) to gain intelligence about US government activity and military plans. By implementing NIST 800-171, the DoD is trying to make it harder for cyber attackers.

Your customers will soon start auditing your compliance with NIST 800-171 (if they haven't already). When they do, they're not going to accept a simple "yes" or "no" answer.

You need proof of compliance.

You need to prove that your computers are protected against hackers. You need to prove that your staff knows how to handle confidential government data. You need to prove that your team knows how to spot a cyber attack AND how to handle it responsibly. And, most importantly, you need to protect your revenue by proving that you were open and transparent when you said "yes, we comply with NIST 800-171."
The Solution: Adelia Risk Cyber Security as a Service
Adelia Risk will:
Assess your business and identify your gaps with NIST 800-171
Develop a plan to demonstrate compliance at the lowest possible cost
Provide added protection against breaches and malware
Teach your staff how to practice good cyber security
Provide evidence for customers and regulators to prove you take cyber security seriously
You Get the Complete Solution
Annual risk and gap assessment – we find the gaps between your company and NIST 800-171/CMMC, and help you fix them.
Sensitive data inventory – where are your "crown jewels" that need to be protected from hackers?
Third party vendor risk review – how are your downstream vendors exposing you to hackers?
Train your users on common cyber security fails – monthly training videos that take less than 5 minutes and are actually fun.
Detect suspicious activity – monitor your firewall logs for signs of an attack.
Secure computing – checklists and tests to make sure your computers are configured properly.
Secure mobile devices – checklists and tests to make sure your smartphones and tablets are configured properly.
Incident response tests – quarterly fake phishing attacks that will test how your employees will behave in a real attack.
User security tests – quarterly sessions with key users to confirm that your security systems are working as they should.
Find the vulnerabilities hackers use – quarterly scanning of your key systems and of your network like a hacker would.
Monitoring for suspicious changes – on-going monitoring of your network and DNS records for signs of a hack.
Executive cyber security briefings – semi-annual sessions to review the health of your security and make changes.
Book a Free Compliance Strategy Session
Add-Ons Tailored to Your Needs
Secure Web Browsing Add-On
Email Security Add-On
Email URL Defense
Fully Transparent Secure Email
Support during NIST 800-171 Audits
Employee activity monitoring
Data Loss Prevention
Two-Factor Authentication
.
User Permission Reviews
Disaster Recovery testing
Endpoint Logging
Penetration testing
Monitoring for stolen credentials
Firewall configuration
Password Management
Website security monitoring